New Norcia is one of the few sites in Western Australia where there are carefully kept records of the culture of the local Nyoongar people at the time of European settlement. These records are the very life-blood of the New Norcia Aboriginal Exhibition. The Exhibition consists of five free-standing modules with two sides to each module.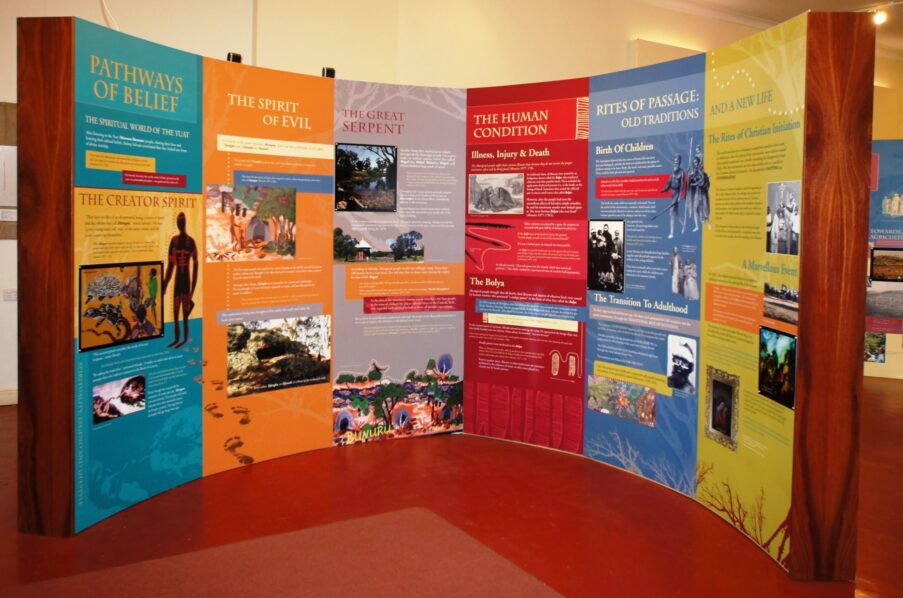 The front side is devoted to the traditional culture of the people, while the rear side of each module depicts the cultural and social changes introduced by the missionaries as the people adapted to the many elements of Anglo-European culture and Catholic belief.
The first module relates to skills; the second module is a presentation of traditional foods and food sources; the third module details communication; the fourth module showcases the local Indigenous kinship patterns, social customs and relationships and the final module, constructed in the form of a traditional maya-maya dwelling, is highlighted by an eight minute animated DVD, drawn from the writings of Salvado as he observed and recorded the spirituality / cosmology of the Yuat people.
It is recommended that groups allow one hour to peruse the contents of this exhibition. Teachers may then find benefit in allowing time for discussion with students as they report back about their observations of these important early years of New Norcia.
Adult groups may also benefit from allowing group reflection and discussion time following their visit to the exhibition.