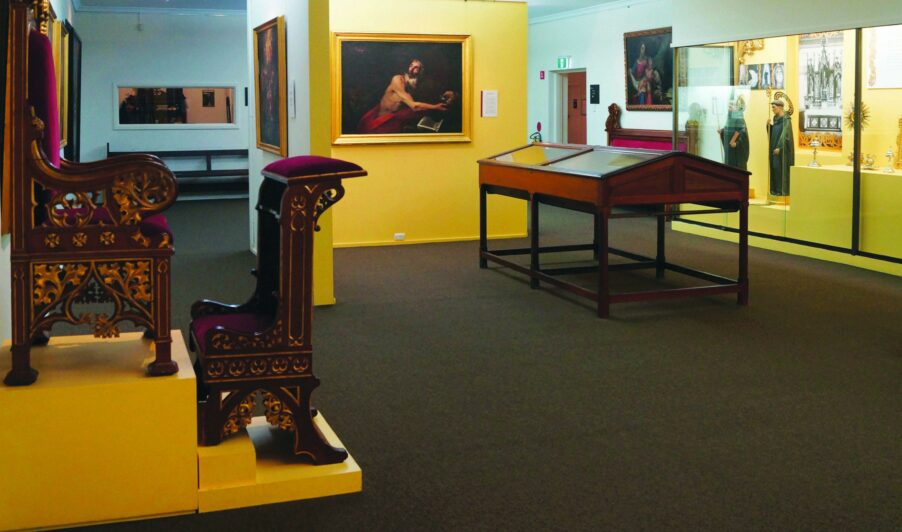 Following last year's successful refurbishment of the Salvado exhibition on the ground floor, we are delighted to announce plans to move upstairs at the Museum and renew New Norcia's 20th century story. The current display in the north gallery is 23 years old and is tired, dated and limited in its scope. Our aim is to interpret the era in a more comprehensive, insightful and engaging way and link it more convincingly with the adjoining galleries.

Like the 19th century, this second chapter in New Norcia's history is a big story. In response to new social and pastoral needs the Benedictine Community shifted from a single focus on missionary work at New Norcia to providing formal education for Indigenous and non-Indigenous students in the town. It also expanded its activities to include staffing a range of parishes and institutions in the surrounding area as well as founding a new mission at Kalumburu in the Kimberley.

In response to these new activities New Norcia's built environment changed dramatically. A building boom exploded and the simple bush settlement transformed into a small European town in the edgy modernist style current in Barcelona at the time. Also its population grew steadily over the next fifty years peaking at around 500 during the Second World War. The great majority were children resident in St Joseph's Girls' Orphanage, St Mary's Boys' Orphanage, St Gertrude's Ladies' College and St Ildephonsus' College for Boys. Each institution was staffed by a different religious order and to a large extent was a separate world with its own distinct culture.

However after successfully negotiating its way through two wars and a depression, New Norcia then had to face the progressive decline and eventual closure of these institutions, again as a result of changing social and pastoral needs. But the 20th century story ends on a surprisingly positive note with the town on the cusp of a revival as a centre of multi-faceted hospitality.

Fortunately the Museum has an outstanding collection of artefacts from this period. There are architectural drawings, furniture and tools from the building boom, liturgical items and musical instruments used by the monks as the community progressively became more clerical, and a range of large religious paintings that were placed around the town to remind the residents why they were there. We also have many more humble and intimate objects that reveal the personal lives and struggles of people who lived in the various institutions of the town.

One spectacular suite of artefacts that will go on show for the first time is the model, drawings, photographs and DVD of a new monastery and cathedral designed for New Norcia in the 1950s by Pier Luigi Nervi, the great 20th century Italian architect whose work includes Rome railway station, San Francisco cathedral and the UNESCO building in New York. Amazingly his New Norcia project featured in the Australian pavilion at the Venice Biennale in 2014!

Thankfully the Museum's north gallery is a large space that can do justice to both these artefacts and their story. However after constant public use over twenty three years the gallery requires extensive refurbishment. General painting and specialist LED lighting are essential as well as specific exhibition requirements such as display furniture and interpretative materials. We will keep you informed as we develop our detailed layout plan and the costings become clear. We sincerely hope you will want to help us fund this important project.

Like the Salvado display, this new 20th century exhibition seeks to open up stories for visitors and encourage them to move outside the Museum and explore the town's buildings and spaces where the history actually happened. Because of its ability to link artefacts, buildings and records New Norcia has the potential to tell a nationally important story with rare depth and energy. When it does, the whole place comes alive, providing a memorable experience for visitors and a sustainable future for the site.

All donations for this exciting project are very welcome and of course tax deductible. You can donate through the webshop or via EFT (NAB Bank; BSB 086006 Acc 842750860 ref Friends Project 2019) or by cheque made out to Monochorum Ltd.
---